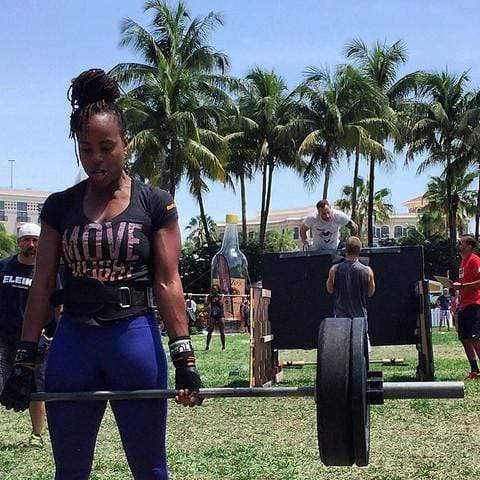 Competing is not just for the top most elite athletes. Competing is something anyone who CrossFits can do. They are designed to push people beyond their comfort zone and come in all shapes and sizes. Athletes can compete as individuals, pairs and even teams at various skill levels. There are so many of them that happen throughout the year so really, there is no good reason not to try at least one.
It will expose your weaknesses.
Yes this is a good thing. Most competitions have 3 workouts so it's a safe bet that there will be at least 1 movement that is not your strength. To be a better CrossFitter, you need to be comfortable not just working on the things you like but the things you hate and/or are not so good at. You will walk from a competition analyzing how you did and recognizing where you need to improve. This will help take your everyday training to a whole new and more exciting level.
It is not about winning.
Ok so for some people, it is about winning. For most people it is about the experience and feeling accomplished at the end of it. After prepping so much for a competition, you will want to give it all you have. Your adrenaline will be pumping in a way that it doesn't in class metcons. (A lot of people even hit PR's at competitions). So do it not to podium necessarily but to feel what it is like to make yourself vulnerable in a way you haven't before.
Competing builds camaraderie.
This may sound like an oxymoron but once you compete, you will know that it isn't. True sportsmanship will show that it isn't necessarily about you versus the rest of the competitors.It is about getting being in the moment and knowing that the "suck" you are pushing through, so is the person next to you.
If you are able to do a competition with other people from your box, it is inevitable you will build a stronger bond with them. You'll be texting, emailing, strategizing together to get ready. Even if you are competing against them, there is still a strong sense of camaraderie.
You may even make new contacts by competing (which basically means you have more cheerleaders in your court at all times).

There are so many facets of CrossFit that you may not even realize when you are strictly going into your home box to workout. CrossFit is a huge phenomenon that goes beyond the work you put it in there. The result of you competing will be becoming a better CrossFitter which also in turns makes for an even stronger CrossFit community. CrossFit is not just about fitness. It is about being part of something. There is no better way to experience this than to compete.
About the Author
Missy lives in Los Angeles and is a member of the affiliate LAX CrossFit. She's been doing CrossFit since 2011 and finds it to be so rewarding both physically and mentally. She has been writing about her experiences with it since 2014.