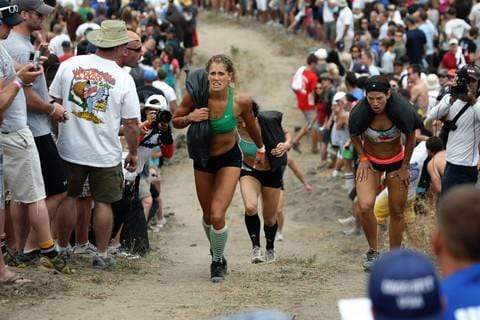 All CrossFitters are innately competitive. Whether you thrive on the feeling of competition at a local, regional, or national level, or you just like to be the first to finish a workout in your class, we all have the competitive "gene." I believe that it one of the things we all have in common as people who love fitness as a sport, and even though sometimes we do not like to admit it, we all get that urge inside of us to excel when the WOD is posted. What we are reluctant to admit, however, is that we are not only concerned with our own workout performance but also the performance of our "nemesis."
Our workout equal, or "nemesis," as I so aptly refer to it, is that person who is most evenly matched with you during WODs on almost an everyday basis. This person shares most of your strengths (and weaknesses), and their level of fitness/experience is similar to your own. They may or may not attend class when you do on a regular basis, but you know their face, know their name, and most importantly, you know what they are capable of.
But the question is, when does out-WODing your nemesis become more important than seeing overall improvement in yourself? The answer is: you should be your number one priority. You should be less concerned with how this other person fared and more concerned with being better than your were the day before. We all go through tremendous growth after starting CrossFit. We grow as athletes and as people. We learn to put our heart and soul into each and every workout, and when we allow our competitive rivalries with others to cloud our judgement, we tend to forget why started CrossFit in the first place.
I started my CrossFit journey almost two and half years ago because I knew I was capable of more. Now, I know I was right. CrossFit has shown me that the possibilities for growth and achievement are endless. Being competitive among your peers is a natural occurrence. It keeps you on your toes. Always remember, however, that the most important competition you face is the one with yourself. So, the next time you hear, "3, 2, 1...go," get ready to chase your real competition down.
About the Author
Meaghan is an avid CrossFitter whose journey began in January 2013. Meaghan felt most at home at her local Delaware box. Prior to CrossFit, she spent most of her childhood as a competitive swimmer. She also participated in collegiate rowing at N.C. State University and was a member of the University of Maryland, College Park, water polo team. She graduated from UMCP with a Biology degree and has recently received her MBA from Wilmington University. She also maintains and posts for her local affiliate's website along with her own personal blog. Meaghan is thrilled to be able to share her knowledge and personal experiences with CrossFit with the Tuff Wraps community! Instagam @barbellbroad