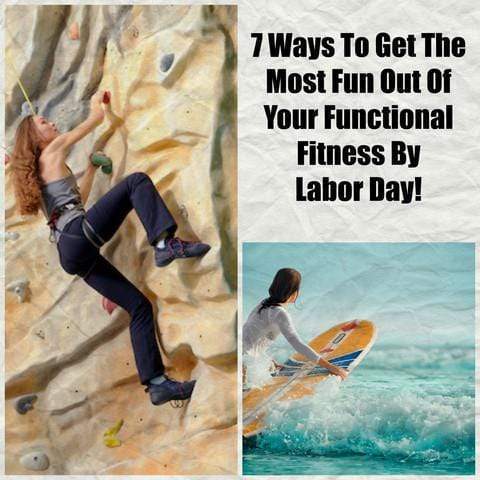 It's pretty obvious that CrossFitters love a good barbell workout. We love the clanging of the weights as they hit the floor and that feeling you get when you have the perfect hook grip set-up. As athletes, however, we must remember that there is a world outside of the gym! It may be hard to believe, but all of that fitness can prove to be quite beneficial out in the "real world." We need to do our best to find a balance, for both our mental and physical well-being, of activities both inside and outside of the box. Here are 7 activities that put the "fun" in functional fitness.
1. Surfing
We all love burpees (maybe). If you can do a burpee, you can stand up on a surfboard. Surfing incorporates both pushing and pulling motions which we see almost daily in WODs. It also requires a good deal of balance and coordination. Use your eagle-eye focus and strength from all that pistol practice to catch the perfect wave!
2. Mountain Biking
Take your strong hammies on a journey into the woods for some cardio-based riding.The uneven terrain found mountain biking also adds in an increased need for core stability and balance. All those toes to bar and lunges will finally pay off!
3. Rock Climbing
CrossFitters love to talk about grip strength. It plays a huge role in almost everything we do. Use your grip to pull yourself up a man-made or natural rock wall. The hook grip may not save your hands during rock climbing, but your glute strength and midline stability sure will.
4. Monkey Bars (and other playground equipment)
For those of us who have kids or who are just kids at heart, an outdoor playground is one of the best places to have some "fun" with your functional fitness. Whether you want to challenge yourself to the monkey bars or climb to the top of "dome," think of a playground as an outdoor box! Your WOD work of all types will come in handy, and you may be surprised how many little ones can still school you. It is their "turf," after all!
5. 5K for a cause
When running is built into a CrossFit workout, it is usually 400m or less. With the exception of a few Hero WODs like "Murph," running miles at a time is usually not on the menu at most boxes. Getting out and just running to run can be quite refreshing. It is also a great way to become more involved in your community outside of CrossFit; the free t-shirts don't hurt, either.
6. Golf
Golf requires focus, patience, and control. It is also all about efficiency. CrossFit teaches us to learn to become more efficient from day one. Use golf as a way to harness the control you have over your own body. Awareness and proprioception are as important in the gym as they are on the green.
7. Wakeboarding
Like surfing, wakeboarding requires a ton of upper and lower body strength, core stability, and balance. It may be a little "extreme" for some, but it may be the perfect fit for a CrossFitter!
Summer is the best time to put your fitness to good use. Get ready to get outside, have some fun, and involve your family and friends. This list comprises just a few of the activities you can excel at as a CrossFitter-no barbells required! Challenge yourself to try out as many as you can by Labor Day. You may be surprised how easily CrossFit movements translate into life outside the box!
About the Author
Meaghan, a former collegiate water polo player and rower, has been a member of the CrossFit community since 2013. She is the webmaster for her box, CrossFit Unlocked, and she has her own blog "Barbell Broad: A Lady's Take on the Lifting Lifestyle." Meaghan can be found on Instagram @barbellbroad.