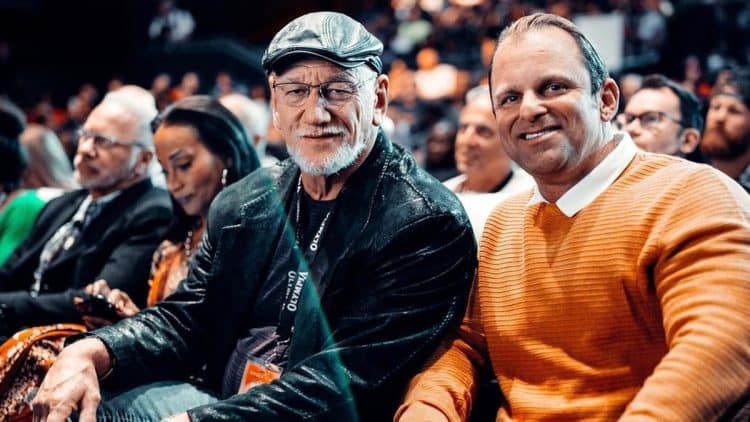 An image of the 2023 Olympia courtesy of @w_wittmannphoto/Instagram.
At the post-Olympia seminar on December 18, 2022, Olympia president Dan Solomon announced that the 2023 Olympia will be staged in Orlando, Florida sometime in the first week of November 2023. Though he did not give specifics on the dates, it is expected that the show will likely span from November 3-5.
Due to the Coronavirus pandemic, the SuperBowl of bodybuilding had to switch its location to Orlando, Florida for the 2020 and 2021 competitions. Nevertheless, the recently concluded 2022 Olympia weekend was held in Las Vegas, enabling bodybuilders in 11 divisions to contend for the most esteemed trophy in professional bodybuilding.
The 2022 Mr. Olympia Open division had an exceptionally difficult field of competitors. All participants were put to the test by the current Mr. Olympia, Mamdouh 'Big Ramy' Elssbiay, throughout the preliminary and final rounds. Ultimately, Iran's own Hadi Choopan dethroned him and took home the title of Mr. Olympia. Chris Bumstead won his fourth consecutive Classic Physique Olympia title, and Derek Lunsford moved up to the Open division. Among the contenders for the 212 Olympia title were Shaun Clarida and Kamal Elgargni. Clarida was eventually announced as the two-time champion of the division. On the women's side, Andrea Shaw and Cydney Gillon continued to demonstrate their superiority and won the Ms. Olympia and Figure Olympia, respectively.
The precise timetable for the 2023 Olympia has yet to be revealed. Nevertheless, it can be safely predicted that the 59th edition of the Sandow trophy is destined for Orlando.
2023 will be an exciting one for admirers of bodybuilding.
The Olympia management has declared that Masters Olympia will be making a comeback in 2023. Established by former Olympia president Joe Weider in 1994, this bodybuilding contest provides older competitors the opportunity to face off against one another. After a nine-year hiatus, the event was revived in 2012, with Dexter Jackson emerging victorious in the final Masters Olympia.
In a post on their Instagram account, Mr.Olympia LLC announced their plans to host the event in Romania from August 25-27. Professional bodybuilders who have retired, such as Lee Priest, Kevin Levrone, Jay Cutler, and Dexter Jackson, have all managed to maintain their physiques in their later years. With the return of Masters Olympia, this gives fans an opportunity to witness these legends in action once more.
On both of Olympia's trips to the gorgeous Florida sunshine state, Mamdouh 'Big Ramy' Elssbiay succeeded. After his defeat to Hadi Choopan at the 2022 Olympia, Ramy vowed to return with greater strength. If Florida is a lucky place for Ramy, he might be able to reclaim the Mr. Olympia title in November and reach the apex again.