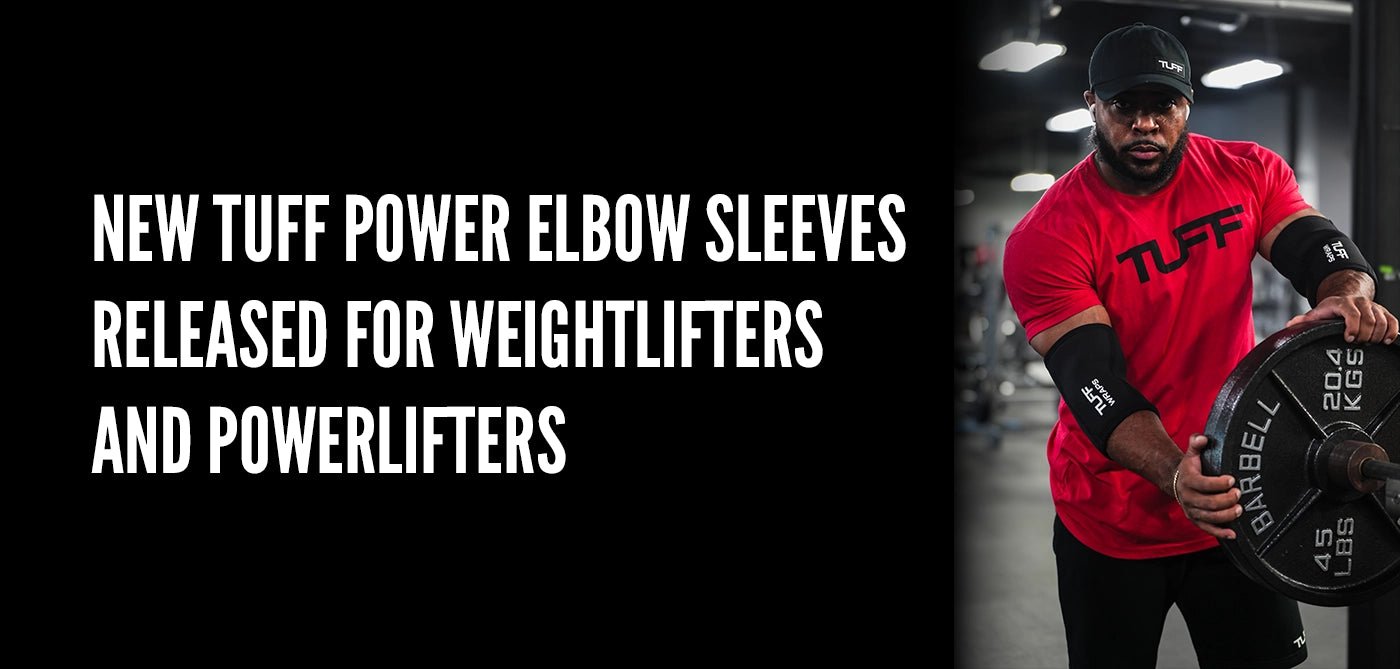 TuffWraps, a leader in functional fitness gear and apparel, has just released our latest elbow sleeves - the TuffWraps Power Elbow Sleeves in all black. These new elbow sleeves were designed specifically for weightlifters, powerlifter athletes, and other functional fitness enthusiasts who need extra support and compression during intense workouts.
Key Features of the TuffWraps Power Elbow Sleeves
The TuffWraps Power Elbow Sleeves have several key features that make them stand out from other elbow sleeves on the market:
7mm thick neoprene provides optimal compression and support around the joint
Ergonomic design contours to the natural shape of the arm for maximum comfort and flexibility
Medical grade neoprene is utilized in the construction for superior quality.
Sweat-wicking inner lining keeps sleeves dry and hygienic during long workouts
TuffWraps logo for visibility and style
Benefits for Weightlifters and Powerlifters
The TuffWraps Power Elbow Sleeves provide a number of benefits for weightlifters, powerlifters, bodybuilders, CrossFit athletes, and other fitness enthusiasts:
Injury Prevention and Pain Relief: The compression helps stabilize joints and reduces strain on tendons and ligaments. This can aid in injury prevention and relieve pain from overuse or previous injuries.
Improved Joint Warmth: The neoprene retains heat to keep elbow joints warm and flexible during workouts, helping maximize the range of motion.
Muscle Support: The compression provides proprioceptive feedback to help activate muscles for better endurance and strength gains.
Confidence: The ergonomic design and tight fit give athletes the confidence to push through grueling workouts without worrying about their gear shifting or slipping.
Ideal for Powerlifting and Weightlifting Movements
The TuffWraps Power Elbow Sleeves are ideal for major powerlifting and weightlifting movements like:
Clean and jerk
Snatch
Deadlift
Back squat
Overhead press
The elbow support stabilization and compression can help athletes safely lift heavier weights and break through strength plateaus on these compound lifts. The sleeves also provide support for accessory work like bicep curls, tricep extensions, and rows.
Sizing and Fit
How to Size:
We advise you to measure your arm in a locked out position with your muscles relaxed. Measure the circumference of your arm (inches) at the center of the elbow.
IF YOU PREFER A TIGHT FIT THEN WE RECOMMEND FOLLOWING THE CHART SIZE.
IF YOU PREFER A COMFORTABLE FIT THEN WE RECOMMEND GOING UP ONE SIZE.
*If you are between two sizes please go with the larger size.
Select the size below that best fits your measurements.
| | |
| --- | --- |
| Size | Center of Elbow (in) |
| XS | < 9.0 |
| S | 9.0 - 10.5 |
| M | 10 - 11.5 |
| L | 11.5 - 13.5 |
| XL | 13.0 - 15.0 |
| 2XL | 14.5 - 16.0 |
| 3XL | 15.5 - 17.0 |
| 4XL | 16.5 - 18.0 |
The sizing is based on the circumference of the elbow. Refer to the TuffWraps sizing chart to find your ideal size.
The ergonomic design provides flexible compression without restricting mobility - you'll barely even notice you're wearing them!
High-Quality Materials and Construction
TuffWraps only uses premium quality materials to ensure durability:
7mm thick neoprene for optimal support and stretch
Nylon/spandex blend inner lining for breathability and sweat-wicking
Double-stitched seams for enhanced structural integrity
The sleeves hold up well to repeated heavy use and hand washing. For detailed information on washing your elbow sleeves, please read "The Essential Guide: How to Washing Your Sleeves Like a Pro."
Customers praise the quality construction and report the elbow sleeves last for many years of hard training.
Cushioned Design for Comfort
While the Power Elbow Sleeves provide tight compression, they remain comfortable to wear for long periods.
The seamless neoprene interior has a smooth feel against the skin. The nylon/spandex lining wicks away sweat to prevent heat rash or chafing during extended wear.
The ergonomic design eliminates pinching or binding in the joint creases. The sleeves may feel snug when you first put them on, but you quickly adjust to the feeling of joint stabilization.
Matching TuffWraps Hand Grips
TuffWraps recommends pairing the Power Elbow Sleeves with their TUFF Grips Elite for a complete upper-body support system.
The TuffWraps Hand Grips provide hand protection when training and are built with an ergonomic design for the hands and wrists. When worn together, the Power Elbow Sleeves and Hand Grips provide a seamless fit for confident, pain-free lifting.
Where to Buy the New TuffWraps Power Elbow Sleeves
They come in a variety of colors, including all black, black with red piping, and black camo pattern.
TuffWraps offers free shipping in the US for orders over $99. We also provide easy returns within 30 days if the sleeves don't meet your expectations.
The TuffWraps Power Elbow Sleeves make an excellent investment for serious weightlifters and CrossFit athletes looking to boost their performance, prevent injury, and lift more weight. Don't miss out on these brand-new elbow sleeves engineered for power and endurance. Order your pair today!