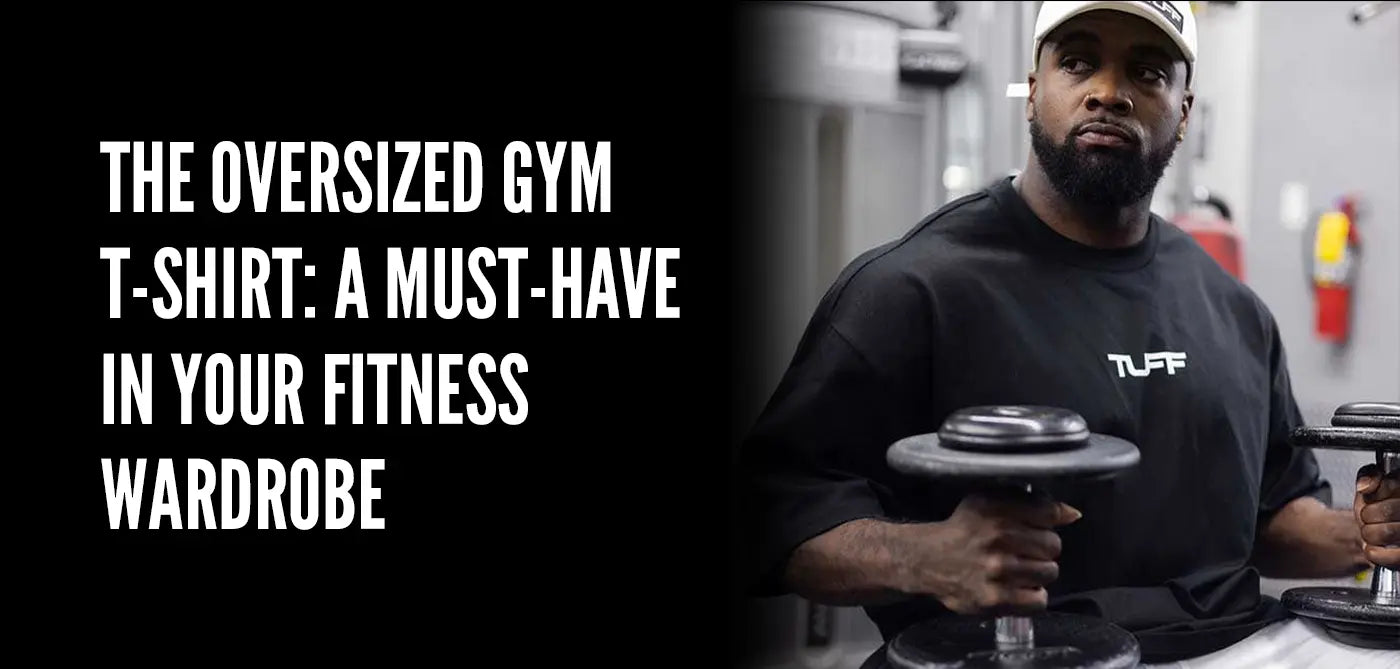 Having the right gear cannot be overstated if you're serious about your fitness regimen. Your workout gear should provide the support you need for your exercise and contribute to your comfort and style. And when it comes to style and comfort, nothing beats an oversized gym t-shirt. From providing unrestricted movement to offering an effortless, relaxed look, an oversized gym t-shirt is a staple every fitness enthusiast should have in their wardrobe.
The Tuff Essentials Oversize Tee is a perfect example. Made with a blend of high-quality materials, it offers a comfortable fit that allows you to perform at your best, no matter the intensity of your workout.
The Unmatched Comfort of an Oversized Gym T-Shirt
Many must pay more attention to the significance of wearing the right gym apparel. While it's true that functionality should come first, comfort is equally important.
"Wearing an oversized gym t-shirt isn't about following a trend, it's about discovering the perfect blend of comfort and functionality."
The Tuff Essentials Oversize Tee, for instance, provides that much-needed comfort. It's soft fabric and relaxed fit make it ideal for any workout, from heavy weightlifting to intense cardio. The loose fit gives you ample room to move, ensuring your movements are not restricted.
Why TuffWraps.com is Your Go-To Brand for Strength Gear
At TuffWraps.com, we're committed to providing top-quality fitness strength gear for all your workout needs. We understand that every individual has unique preferences and requirements when it comes to workout gear. That's why we offer a diverse range of products, including weight lifting gear, lifting straps, and a variety of fitness apparel.
It's Not Just a T-Shirt; It's a Statement
An oversized gym t-shirt is more than just a piece of clothing; it's a statement. It speaks volumes about your approach to fitness and your style. By choosing an oversized tee, you're opting for comfort and functionality, but you're also choosing a casual, laid-back style that speaks to your relaxed, confident approach to fitness.
What Sets The Tuff Essentials Oversize Tee Apart?
In the crowded market of workout attire, what truly sets the Tuff Essentials OversizeTee apart is the thoughtful design and quality of materials used in its creation. These tees are made with the comfort of fitness enthusiasts in mind, crafted to help you feel at ease while you break a sweat.
Durability Matters
When you're pushing your limits, the last thing you need is clothing that can't keep up. Our oversized gym t-shirt isn't just designed to be comfortable - it's built to last. Made from a premium blend of materials, the Tuff Essentials Oversize Tee is resilient and durable, able to withstand the demands of even the most intense workouts.
Style Meets Function
Being practical doesn't mean compromising on style. Our oversized gym t-shirt is a testament to that fact. It features a sleek, minimalist design in several colors to complement any workout gear. Pair it with your favorite lifting straps or gym shorts, and you're ready to hit the weights in style.
For Every Fitness Journey
Whether you're a seasoned weightlifter or a beginner starting your fitness journey, the oversized gym t-shirt is a perfect companion. It's a versatile piece of clothing that seamlessly fits into any workout routine, giving you the comfort and freedom of movement you need to perform at your best.
The TuffWraps.com Commitment
At TuffWraps.com, we're not just about selling products. We're about helping people achieve their fitness goals. That's why we strive to provide a range of high-quality strength gear and fitness apparel that caters to the needs of every fitness enthusiast.
"At TuffWraps.com, we stand for quality, comfort, and style. We stand for you."
So next time you update your fitness wardrobe, consider adding an oversized gym t-shirt. It's more than just a shirt - it's a testament to your commitment to fitness, a symbol of your journey.
So, step into comfort, embrace the freedom of movement, and make a style statement with our Tuff Essentials Oversize Tee and our range of other quality fitness gear. Your workout routine deserves nothing less.


Frequently Asked Questions
Q: Why do people wear oversized t-shirts in the gym?
A: People wear oversized t-shirts in the gym mainly for comfort and freedom of movement. These t-shirts are less restrictive, allowing for greater flexibility and a broader range of motion during workouts.
Q: Can I workout in an oversized shirt?
A: Absolutely! An oversized shirt can be a great workout option. Its loose fit ensures your movements aren't restricted, allowing you to perform at your best during your workout.
Q: Are oversized t-shirts trendy?
A: Yes, oversized t-shirts have become a significant trend in both casual wear and workout attire. Their relaxed and comfortable fit and stylish, laid-back look make them a popular choice.
Q: How to shop for oversized tees?
A: When shopping for oversized tees, look for quality fabric that is breathable and durable. Ensure that the fit is loose but not too baggy. Lastly, choose a design and color that aligns with your style.
Q: What size shirt should I get if I buy oversized?
A: If you're buying a shirt that is title oversized, we would recommend purchasing the exact size of shirt you usually wear. The key is to achieve a loose, relaxed fit without appearing excessively baggy.
Q: Can skinny people wear oversized tees?
A: Yes, skinny people can certainly wear oversized tees. The key is to balance the look with fitted bottoms, like skinny jeans or leggings, to avoid looking swallowed in fabric.
Q: Do oversized tees look good on skinny guys?
A: Definitely! The contrast between a loose tee and a slimmer silhouette can create a stylish, modern look. As with all clothing, the key is to wear it with confidence.
Q: Are oversized t-shirts in style in 2023?
A: Absolutely! The oversized t-shirt trend continues to grow in 2023, with more and more people appreciating their blend of comfort, style, and versatility.
Absolutely! Below is your FAQ content represented in Google's FAQPage schema in HTML: ```html