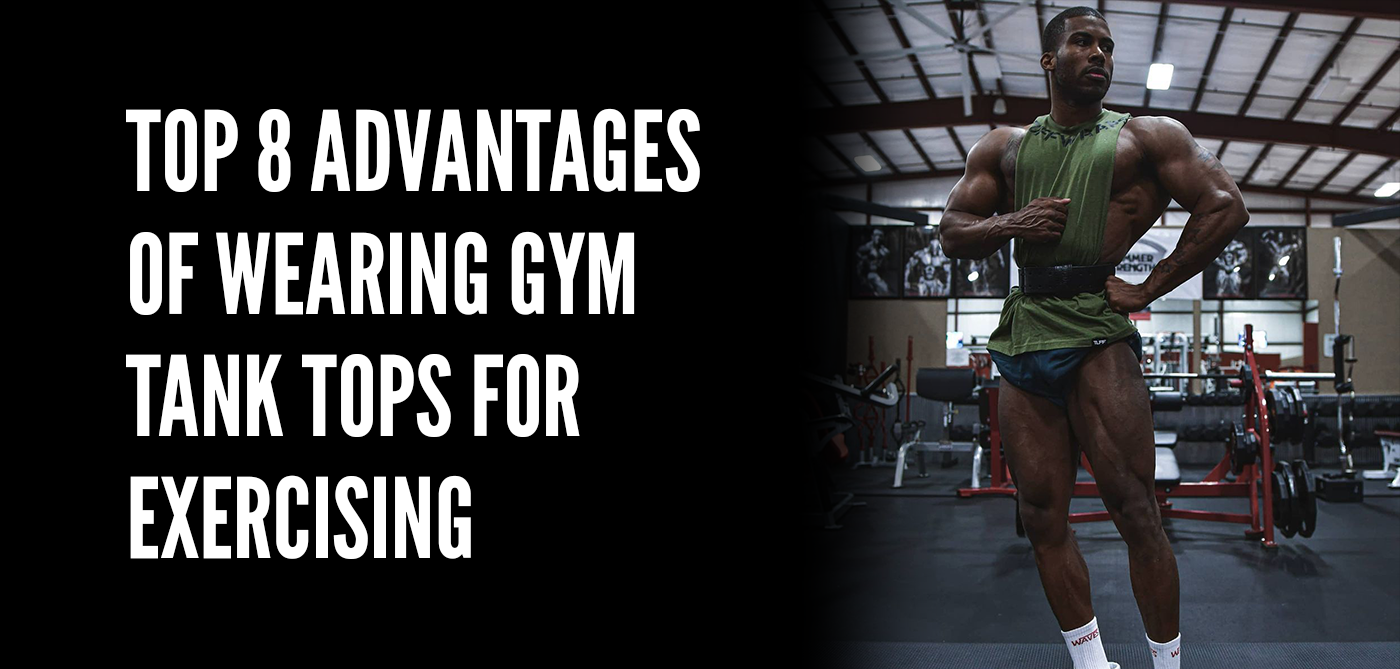 Gym tank tops are an excellent option for anyone looking to stay comfortable and cool during their workout. They are lightweight, breathable, and provide plenty of range of motion for any workout. Tank tops also give a slimming effect, making them ideal for those who want to look their best while exercising. 
There are several advantages to wearing gym tank tops, and we'll cover them in this article.
1. Enhanced Mobility
Enhanced mobility is the biggest advantage gym tank tops provide. This is because they are designed to fit tightly around your body, allowing you to move freely while exercising. This can help you to perform exercises more effectively and efficiently, as you won't be restricted by loose fabric.
2. Improved Breathability
Gym tank tops are typically made from lightweight, breathable fabrics like cotton, polyester, and rayon. These materials allow your skin to breathe better and keep you cool while you work out. This allows your body to breathe and stay cool, even during intense workouts. 
Gym tank tops are also typically designed with ventilation panels or mesh inserts to maximize breathability. This is important for preventing overheating and ensuring you stay comfortable and focused during your workout.
3. Show Off Your Physique
Gym tank tops are also great for showing off your physique. The tight-fitting design helps to accentuate your muscles and draw attention to your definition. This can be a great confidence booster and motivate you to work harder.
4. Enhanced Comfort
Gym tank tops are usually made from soft, comfortable materials. This helps to ensure that your workout is as comfortable and enjoyable as possible, as you won't be distracted by uncomfortable clothing.
Gym tank tops are also great for managing moisture. The fabrics used to make gym tank tops are designed to wick away sweat and moisture, helping you stay dry and comfortable during your workout. This is especially important for athletes who engage in high-intensity activities. 
5. Enhanced Style
Gym tank tops are also great for their style. They come in various styles, colors, and designs, allowing you to customize your look, so you can find one that suits your style. They're also great for showing off your toned arms and upper body. 
6. Enhanced Versatility
Gym tank tops are incredibly versatile. You can wear them for any workout. Whether lifting weights, running, or doing yoga, there's a tank top to suit your needs and style. They can also be worn as part of a casual outfit, making them great for everyday use.
7. Affordability 
You can find basic tank tops in most stores, which won't break the bank. They're often less expensive than traditional gym shirts.
8. Increased Practicality
They are easy to wash and care for, making them an excellent choice for regular use. Additionally, they are often made from durable fabrics designed to withstand wear and tear. This means they will last longer and keep you looking good. 
Conclusion
Overall, gym tank tops offer a range of advantages that can help you to make the most of your workout. They provide enhanced mobility, improved breathability, a way to show off your physique, enhanced comfort, style, and versatility. They are also affordable and very practical to use. 
So, if you're looking for a comfortable and stylish way to workout, gym tank tops are a great choice.
So, if you're looking for a stylish and comfortable way to stay cool during your workout, TuffWraps' men's graphic tank tops are a perfect choice. With their prints and color selection, you'll find the perfect tank top to complete your gym wardrobe. So, what are you waiting for? Check out our selection today and start expressing your style!