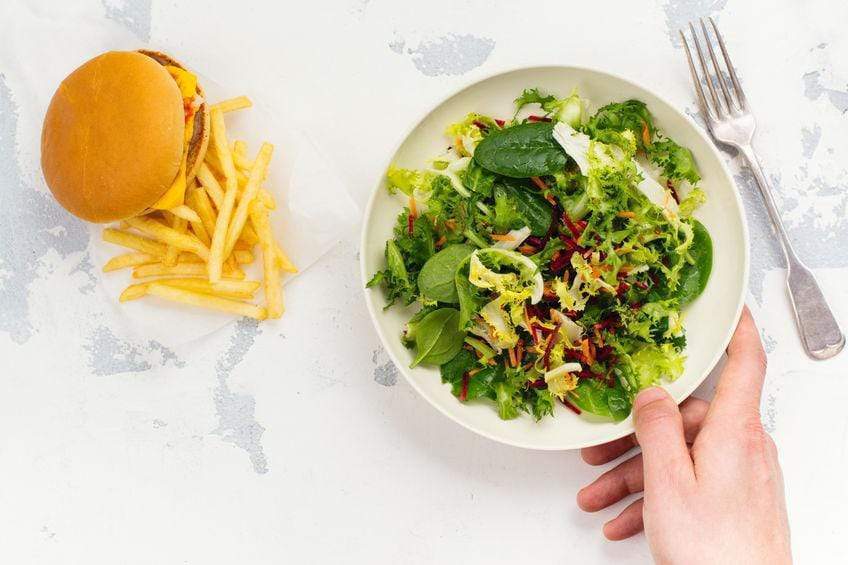 For fit college students, eating healthy especially while on the go can be one of the biggest challenges of your college career. When not running from one class to the next or attending events and working part-time jobs- college students who want to be fit and healthy, also have to remain aware of the caloric intake, fat and trans fat, and cholesterol in convenient food options.
College students are challenging themselves every day both physically and mentally. So, they must eat to fuel these challenges and to continue to excel both academically and physically. It's important for students to eat foods that prepare them for coursework and physical fitness. It's equally essential for them to choose foods that enable their bodies to recover quickly after a stressful week like finals week. However, they also need foods that help their brains process tens of hours of new information learned in each class week by week.
What makes college students so different from the rest of the world, is that college students have far more priorities that compete for the top of their list. An active adult can bypass a healthy diet most days with no immediate severe consequence. But, for college students, they must perform academically to remain in the school, but they also must perform physically to keep up with the workload of attending classes and holding down jobs.
For the average student, eating healthy on-the-go often means having to find foods that they can pack and keep in their bags while they run from class to practice to a job and back to class. Many semesters also include travel, staying in hotels, eating in fast food restaurants, and snacking on the road to competitions.
As if eating healthy and today's world wasn't already complicated enough, college students must find a way to eat healthy meals and snacks while traveling during holidays, taking classes, running to part-time jobs, and attending various student body activities.
While it may seem like a daunting task and one that is impossible to ever really get right, fueling your workout and eating healthy on-the-go is possible with just a little bit of prep work. For the student who wants to maintain the best possible diet, there are some meals and always-ready snacks to keep on hand.
One important healthy habit for fit college students to develop is the ability to pick out healthy food choices no matter where the team is eating or what type of food is being served. In general, places such as fast food restaurants and rest stops would be the last place one should look for a healthy meal. Unfortunately, it is the case often for college students that there is no other choice but to eat in the cafeteria or nearby convenience stores.
Healthy Options During Holiday Travel
Gas Stations and Rest Stops
Whether it's a rest stop, gas station, or just a convenience store stop, college students can still find healthy food options. It is wise to approach each of these locations and shop just as though you were in a grocery store shopping for your weekly meals. Meaning, look for healthy foods and avoid junk food. Healthy items often found at rest stops and gas stations include dry cereal, fruit such as bananas and apples, mixed nuts and dried fruit.
Fast Food Chains
Most fast food restaurants have made a change in recent years and added some slightly healthier options to their menus. Those options include things like grilled chicken instead of fried chicken, large salads that come as a meal instead of burgers or pizza, and drink options like fruit juice and bottled water. Stick with these items if the team bus pulls into a fast food restaurant on your next travel day.
At the Hotel
Often, college trips include a one or two-night stay at a hotel near an event venue. When looking for healthy food options during a hotel stay, also check the area for a local grocery store. Purchasing items at a local grocery store to keep in your hotel room refrigerator is your best bet for healthy food options during team travel stays.
In the morning when you head down to the hotel's continental breakfast options, remember to bypass pastries and baked items like muffins and strudels. Most hotel breakfasts will have fruit and granola options as well as low-fat or fat-free yogurt. Another option commonly found at a hotel which is excellent for the student on their way to a family event is oatmeal. On your way out, pick up a few extra pieces of fruit and toss them in your bag for your afternoon snack.
When not traveling, it can still be challenging to fit college students to find healthy options when rushing from class to work. Keeping some healthy choices in a small cooler or your duffle bag is a must for students who are serious about performance.
Below are healthy meals and snack options for fit college students regardless of where the hectic days take you.
Lunch
Turkey or chicken deli meat sandwiches on whole grain bread with cheese and topped with lots of veggies.
Pasta with a garden salad, and whole grain rolls.
Rice bowls with beans, vegetables, and salsa.
Tortillas with whole wheat, vegetables, and lean steak.
Tuna with macaroni noodles and light cheese.
Large, leafy green salad loaded with vegetables and a small baked potato.
Snacks
Granola with yogurt and fruit
Baked sweet potatoes, cooked in a microwave for 10 minutes and topped with cinnamon.
Crackers and almond butter.
Trail mix with nuts and dried fruits.
English muffins topped with strawberries and organic honey.
Tuna packets with bagels or crackers.
Frozen fruit bars with no added sugar.
Pretzels with cheese cubes.
Vegetables with hummus.
Popcorn (without butter and with light or no salt).
Deli meat and crackers.
Dinner
Burritos with vegetables, salsa, and light cheese.
Chicken and guacamole quesadillas.
Salmon quinoa, vegetables, and a sweet potato.
Stir fry with chicken, brown rice, and lots of vegetables.
Cobb salad with balsamic dressing and topped with fish.
Boneless chicken breast, steamed vegetables, dinner roll.
Spaghetti with turkey meatballs, house salads, and a slice of garlic bread.
Steamed fish on rice with asparagus.
Training your eye to quickly locate the healthiest option available takes some time, but it is always worth the work. Regardless, if you find yourself in a location with no healthy options, eat just enough to get you through to your next stop. Making great food choices 80% of the time is the key to peak performance for all students.