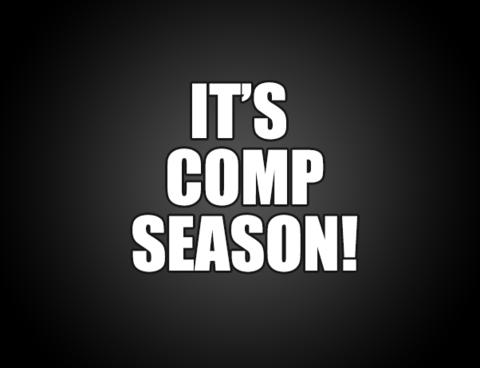 So it's that time of year again, I call it "Comp" season, it's the time of year when the sun shines, ok sometimes that part fails to deliver, but in any case it's summer and there are an infinite amount of competitions to enter.
As a CrossFitter who enters competitions, my transition to a more structured approach has been somewhat of interesting journey.
I think in the early days of 2010 regionals and 2011 regionals I was "Comp drunk". I entered anything and everything, thinking nothing of having back to back events and little to no rest in between.
Then the inevitable happened! Accumulated injuries started to surface in my back and fatigue started to show in my performances.  I didn't understand why and how the gains were slower, the lifts were heavier and the workouts harder.  
So, I took a somewhat forced rest and I started to improve my coaching.  I fell in love with developing athletes and those starting out on their CrossFit journey. Motivated by not wanting others to experience the same mistakes as myself, I stopped competing. I decided there was nothing more to prove to myself or anyone else for that matter. I fixed my mind-set, I developed in to a much better coach and I tackled my nutrition.  I took a holistic approach to my training and welfare. I started Yoga and dropped the meat/fat dominant diet. Some surprising things happened when I began to optimize my nutrient uptake and eat properly to allow my hormones to function properly.
I started to look like an athlete and I started to perform much better.  I felt grounded and happier and I was seeing my clients develop a healthier attitude towards their training.  After two years away from serious competition I had learned a valuable lesson in "gains in losing".
"Gains in losing" is a phrase I gave to my progress. For every lift I missed, for every workout I dropped reps on, for every session that felt like an uphill struggle, I learned more and more about coaching. I learned more and more about myself and where I can develop and make improvements. I learned that more is not the best. I learned that rest is vital for recovery and running on empty would lead to nothing but my burn out in the long run, even if you can't see it in the present moment.
I approached a good friend from my past and we started a coaching plan. You see, "me" coaching "me" never quite hit the mark. I was either not doing enough, doing too much, or selecting the good over my weaknesses to satisfy my need for success.  What this gave me was structure and it provided me with a go to person, someone to be accountable to for "not-doing" and "overdoing".  I developed an "off-season" and before I knew it I was balancing that with a "comp season". I was competing and performing again, but above all I was enjoying myself.  
So, as I write this I am in my tapering period, I have de-loaded my volume and increased the intensity for the past two weeks. This method ensures that I maintain my strength, power and endurance. I feel rested and ready for the event. I entered a smaller competition where I built confidence in that pre-performance window. I took rest after this which was just enough to recover and maintain. I roll and get regular massages, I stretch, I eat nutrient rich foods, I eat minimal red/processed meats which help to keep my body optimized by being in an alkaline state.  I meditate and sit in silence for at least 20 minutes a day which helps put everything into perspective.
This holistic approach, discovered after a very unhealthy approach, has been a game changer for me. I hope this is a welcomed lesson for my future team of athletes and box members.   
About the Author
Marie Collis (BA Hons) – Owner of CrossFit Lutterworth and Mountain Goat Organic Coffee. Is a qualified, level 4 PT and L4 Learning and Development manager.