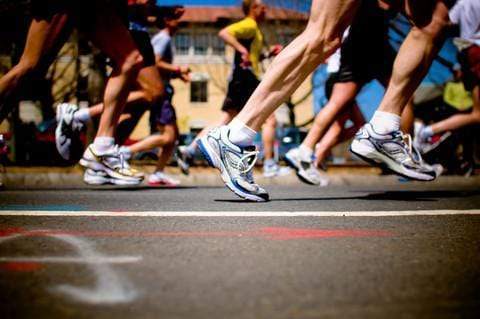 More and more athletes are cross training to improve overall performance in their main sport. Some runners may be concerned that heavy strength training can produce too much muscle mass and hinder their speed. However, most studies show no adverse effects on aerobic power from heavy resistance exercise. Kraemer and colleagues reported that women who performed both resistance and aerobic endurance training had greater aerobic development than those who performed aerobic endurance training alone.
Over training can occur when training is excessive in frequency, volume, or intensity and can result in extreme fatigue, illness and injury. Unfortunately there is no "cookie-cutter" recipe for every runner in regards to how often and how intense one should cross train. In general, I suggest incorporating some form of strength training 1-2 days a week. If improving running is your ultimate goal, running should stay your focus. I suggest finding guidance from a Certified Strength and Conditioning Specialist, if you are unsure how to arrange a strength training program. One or two sessions may be enough to teach you an effective routine that can be continued independently.
CrossFit is a great form of cross training for runners when done safely. CrossFit combines strength training, Olympic style weight lifting, plyometrics, gymnastics, and aerobic endurance. It is extremely important to research the credentials and experience of any coach and/or personal trainer before working with them. Proper body mechanics are necessary to avoid injury with any type of strength training program. If you are unsure how to use a particular weight machine, or how to perform any movement, ASK for help. Finally, listen to your body! The body needs adequate rest, recovery and nutrient intake to execute at optimal performance. A careful balance of both strength training and aerobic endurance training will improve your run times.
About the Author
Jeanna LeClaire Hill, PT, DPT, ATC, USAW-L1SP – Jeanna LeClaire Hill is a doctor of physical therapy and certified athletic trainer at HSS Spine & Sport in Jupiter, Florida. Jeanna graduated Magna Cum Laude from Towson University with a Bachelor of Science degree in Athletic Training, going on to earn her Doctorate in Physical Therapy from the University of Maryland, School of Medicine. She is a CrossFit Level 1 Trainer, co-owner of CrossFit Waterway, and a USA Weightlifting Level 1 Sports Performance Coach.