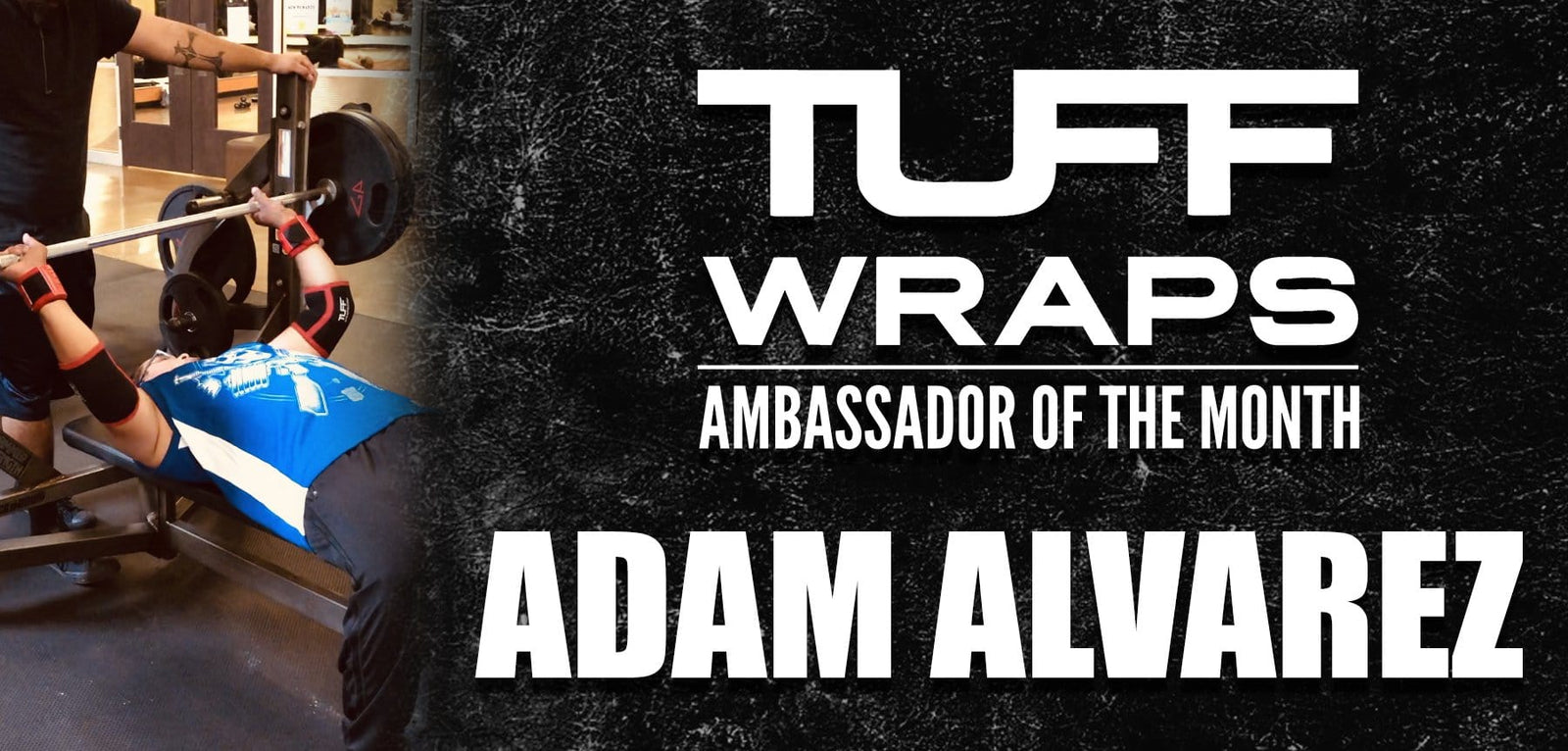 What is your name?
Adam Alvarez
What is your IG Handle?
https://www.instagram.com/ctoe.verez/
How long have you been a TuffWraps Ambassador?
1 to 2 years.
What is your occupation?
Working at Costco.
What is your favorite TuffWraps product, and why?
Villain Wrist Wraps and TUFF Elbow Sleeves, especially when lifting heavy.
Tell us about your Fitness journey and where it has to lead you to today?
Well, I've been working out for eight years straight.  At first, I began working out at the recreation center when I was younger.  My body type at that time was lean, skinny, and tall.  I started learning about all kinds of workout routines, and training in the gym became part of my life.  At that time, I was going through a lot in my life and was battling many things from personal issues to alcoholic problems and needed a way to cope with it all.  The gym was the answer, and so that's when I started working out.  Throughout the years, I kept thinking about what I wanted to do in terms of working out.  I thought about being a crossfitter, bodybuilder, powerlifter, or strongman, but I decided to see what my strengths are. When I first started, I weighed 140 lbs, but my goal was to be bigger, and now I weigh 230 lbs.
I have a lot of different people I look up to in the industry, but my main idol is Big Boy from Strength Cartel and of course Jay and Sonia From TuffWraps.  All the different Athletes from TuffWraps give me the motivation to hit the weights harder! Big boy from Cartel gives me the motivation to push my body to the limit. Having the proper weightlifting accessories such as Villain Wrist Wraps and TUFF Elbow Sleeves allows me to lift heavier when I bench, squat, and deadlift.   I went from being able to bench press 95 lbs, and now I bench press 245 lbs.
Fitness is truly my life, and it has helped me to be a better person. I am now healthier as you can see from my Instagram as it shows how much I've changed.  I support small companies, and I love to help promote the companies I believe in.  Being a part of it all makes me feel more positive in life.  In my future, I have bigger goals to concur and will use the strength I have from my life struggles.  I needed a way to feel successful about my life; being part of great companies like TUFF makes me feel more positive.  Something I have not yet mentioned is I have also had a heart condition. I had an angioplasty done when I was a baby.  Having to have my heart checked every time I wanted to get involved with physical activity throughout my life was difficult, but when I found weightlifting, it changed everything.  I'm strong-willed, I know that I could overcome anything and that is why I chose to be a part of Tuffwraps.
What are your future goals in terms of fitness, nutrition, and lifestyle?
My goal is to be the owner of a gym at some point in life and work with like-minded people. I prefer a Mom/Pop style of a gym that is true to fitness and not commercialized.
VILLAIN WRIST WRAPS