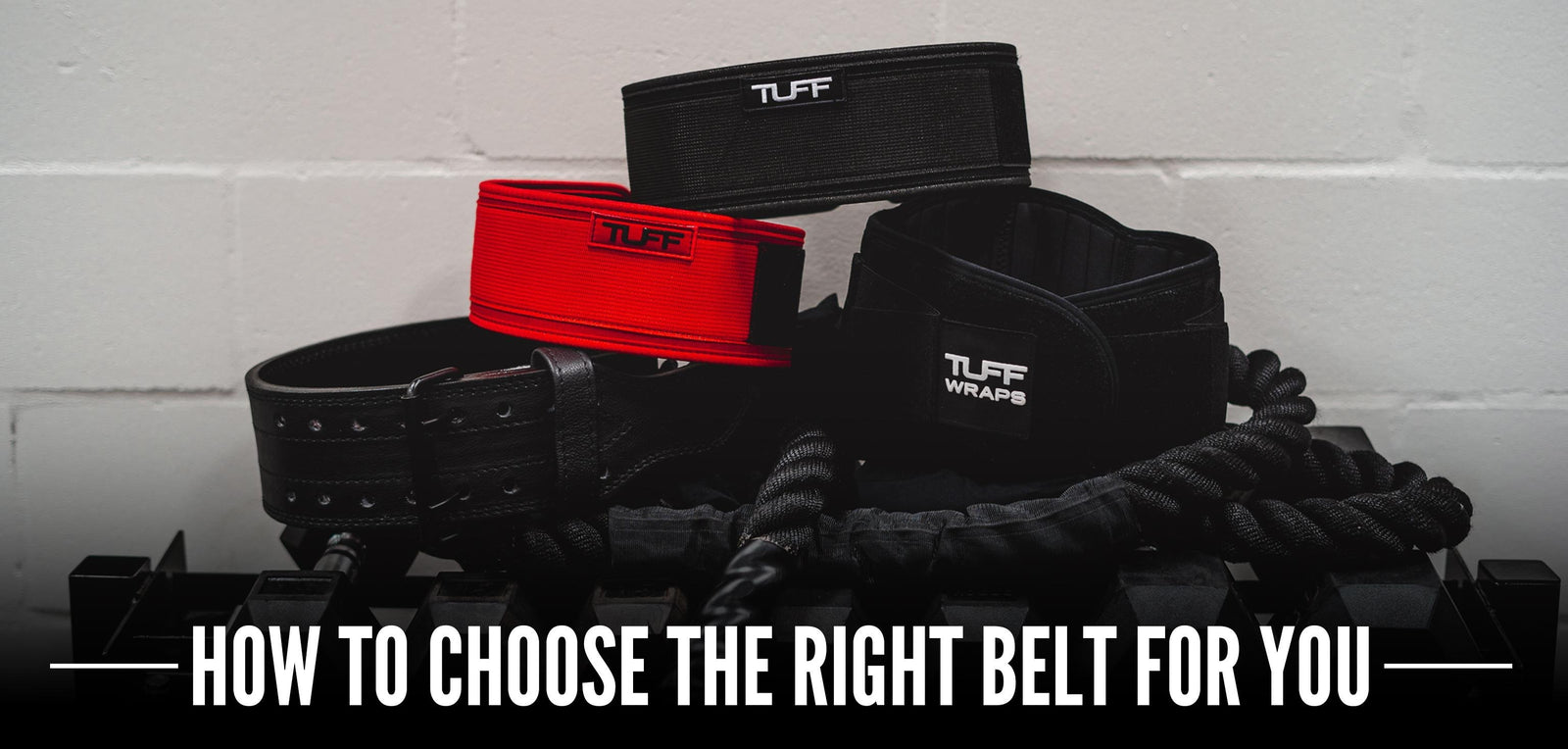 The weightlifting belt for a gym enthusiast or athlete is one of the most significant financial investments you will make in your gym gear, so understanding which is right for you and your sport is essential. With strength sports all having slightly different objectives, there is often a need for other weightlifting belts for different occasions.
For example, a 13MM leather lever weightlifting belt would only benefit a CrossFit athlete a little, as it's far too bulky and heavy for fast-paced movements. However, for a heavy log press movement in strongman, it's perfect for the amount of support required due to the extensive weight they are moving.
Here we will go through and explain our range of belts below and how their design differences make them suitable for different occasions.
Nylon Self-Locking Belt 
The Nylon Self Locking Weightlifting Belt is an entry-level belt that any athlete can wear—designed to be incredibly comfortable while providing proper support for general weight training and fitness. The self-locking mechanism with velcro closure means the belt will never loosen during a workout, so you can leave it secure for long periods.  
This feature alone makes it very suitable for CrossFit workouts. Being a softer belt, it still allows the user to have a good range of motion to perform explosive movements such as power cleans and the clean and jerk, often found in popular WODs.
10mm Double Prong Weightlifting Belt
The 10mm Double Prong Weightlifting Belt is a classic design, 10mm thick and 4" wide along the entire length, with two rows of holes giving nearly 9" of adjustment. As the name describes, the belt has a double-prong closure buckle. The leather in this weightlifting belt is soft, and the 10mm thickness suits people wanting to include a good amount of support in heavy movements such as squats and deadlifts.  
Because the weightlifting belt is quite soft, it's also very useable in bodybuilding, where athletes often have a smaller waistline. Sometimes the more rigid 4" weightlifting belts can be very uncomfortable.
A suitable belt for the classic weight lifter and gym enthusiast will offer great support and last for years.
10mm Lever Belt
The 10mm Lever Weightlifting Belt is a rock solid weightlifting belt and is one of the most popular style belts on the market, making it one of TuffWrap's best sellers. The 10mm thickness and pre-broken leather make this belt suitable for powerlifting, strongman, and bodybuilding. Giving a massive amount of support but not so rigid, you feel restricted.  
The popular lever buckle mechanism enables a quick and secure engagement when putting your weightlifting belt on and lets you remove it quickly at the end of your set. 
13mm Lever Belt
The 13mm Lever Weightlifting Belt is our most extreme belt and is not for entry-level athletes. The belt is rigid and requires a period of bedding to soften and leather and allow it to form to your waist.
The lever buckle mechanism removes any "faffing" while getting ready for your lift, where you want to be focused on the weight to be lifted. This is a great belt to provide maximum support in single-rep power-raising events where support needs to be unrivaled.
A firm favorite in the strongman world also, as the weights moved by the athletes require them to be supported at all times possible! This belt is often worn over the TuffWraps Compression Under Belt to keep the lower back in carrying events as the yoke and farmers run.
TUFF-X Compression Under Belt
The TUFF-X Compression Under Belt is quite a specific piece of support equipment targeted mainly at the sport of strongman. The belt is a neoprene construction with plastic bones in the back, providing excellent support while allowing the athlete to move freely. This is important in atlas stone loading and carrying/loading events.
The weightlifting belt also has side loops to allow a 4" weightlifting belt to be worn over the top to provide additional support. This is the ultimate setup to give the most significant support to the athletes wearing the belts. This is required for heavy yoke runs and log presses, where your core needs to be as strong as possible.
Suggested Users
Nylon Self Locking Belt - Entry-level Weight Training & Cross Fit
10MM Double Prong Belt - Bodybuilding / Weight Training
10MM Lever Belt - Bodybuilding / Strongman / Power Lifting
13MM Lever Belt - Strongman / Power Lifting
TUFF X-Compression Under Belt - Strongman
Shop All Weight Lifting Belts