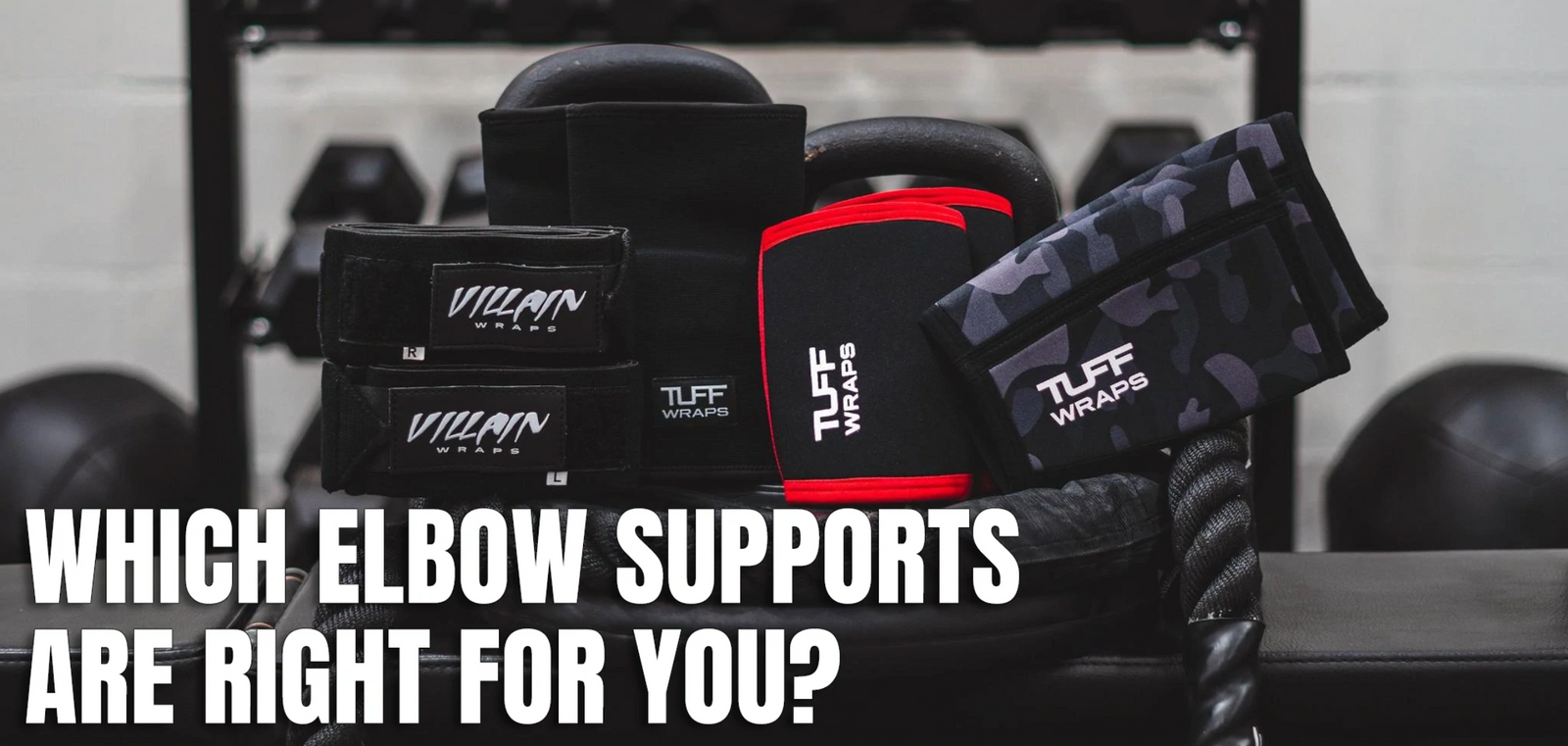 When it comes to choosing elbow support for your training, it can be a really confusing decision. Do you choose something made of a soft material, like our Dual Ply Elbow Sleeves, or do you choose a thicker style, like our 7MM Power Elbow Sleeves made of neoprene!?
Understanding what training style you will use the sleeve for is the best way to make an informed decision. Are you into Bodybuilding, Powerlifting, Strongman Training, Cross Training, or are you the everyday gym goer?  
We are confident that we can provide you with a pair of elbow supports suitable for your training needs. Keep reading below as we break down all our different styles. 
Dual Ply Elbow Sleeves
The Double Ply Elbow Sleeves are one of the most popular and softest sleeves we sell.  A combination of their ability to keep the joint warm and apply an unrivaled sense of compression makes them incredibly versatile.
These sleeves are incredibly popular with bodybuilders who often train high-volume reps, so keeping their bodies and joints warm is incredibly important for them. The added compression can help alleviate issues like tendinitis that can occur in the elbow and forearm, especially during exercises like arm curls and pressing.
The custom compression material for these sleeves offers a medium amount of support for the elbow, mainly during pressing movements like bench press and shoulder pressing.
The compression material also makes them very suitable for the often crazy ratios a bodybuilder can have between their elbow joint and lower bicep.  This is where some stiffer neoprene sleeves struggle to mold to the arm so well and end up underperforming in terms of compression.
Overall the Dual Ply Elbow Sleeves are a fantastic versatile sleeve that is perfectly suited to everyday fitness enthusiasts all the way to dedicated IFBB Pro Bodybuilders by the likes of Terrence Ruffin and James Hollingshead. 
5mm Neoprene Elbow Sleeves
The 5mm Neoprene Elbow Sleeves were the first sleeves we released and have become a staple addition to many gym bags. The 5mm neoprene construction combined with a tapered inside panel makes them very comfortable to wear for your entire workout while offering great support.
Because of the slightly shorter design (compared to the 7mm Power Elbow sleeves), these 5mm versions are very much suited to the explosive nature of Cross Training exercises which require a large range of motion executed quickly while maintaining great function for everyday movements such as push-ups and bench press to kettlebell workouts and pull-ups.
Overall these are entry-level neoprene sleeves most suited to the general fitness enthusiast who will require support on various exercises without restricting their range of motion. 
7mm Neoprene Power Elbow Sleeves
The 7mm Neoprene Power Elbow Sleeves are the most supportive and heavy-duty sleeves we currently offer. The thicker neoprene and longer length add a level of support unmatched by our Dual Ply or 5mm versions.
These sleeves are a firm favorite with the intense disciplines of Strongman and Powerlifting, where every ounce of support is required to hit the lift. The 7mm Power Elbow sleeve has a specifically designed double seam section to be worn on the inside of the elbow, allowing the sleeve to bend more effectively when the elbow is retracted. This gives the athlete as much rebound support as possible in preparation for the explosive part of the press.
These sleeves are perfect for exercises like heavy bench presses, shoulder presses, strongman logs, and circus dumbbell work.
Elbow Wraps
Our Villain Elbow Wraps is a specific piece of equipment used by people who improve their maximum effort on a bench or dumbbell flat press.
Using the same "Belt Loop Tightening System" as our best-selling Villain Wrist Wraps, our Elbow Wraps are 60" in length, allowing them to be wrapped multiple times around the elbow joint and pulled as tight as required, allowing the user to determine the amount of support. These are heavy-duty accessories and are finished off with double velcro attachment points.
Unlike elbow sleeves, the elbow wraps are NOT designed to be worn for multiple sets and are to be wrapped and removed after each working set.  
Overall the Villain Elbow Wraps offer a huge amount of support for single-set exercises but are suited to a more experienced lifter targeting a specific goal.
Suggested Use:
Body Building - Dual Ply and Elbow Wraps / 7mm Neoprene
Cross Training - 5mm Neoprene
Strongman - 7mm Neoprene / Dual Ply for warming up
Powerlifting - 7mm Neoprene
General fitness - Dual Ply and 5mm Neoprene
Shop All Elbow Sleeves & Supports