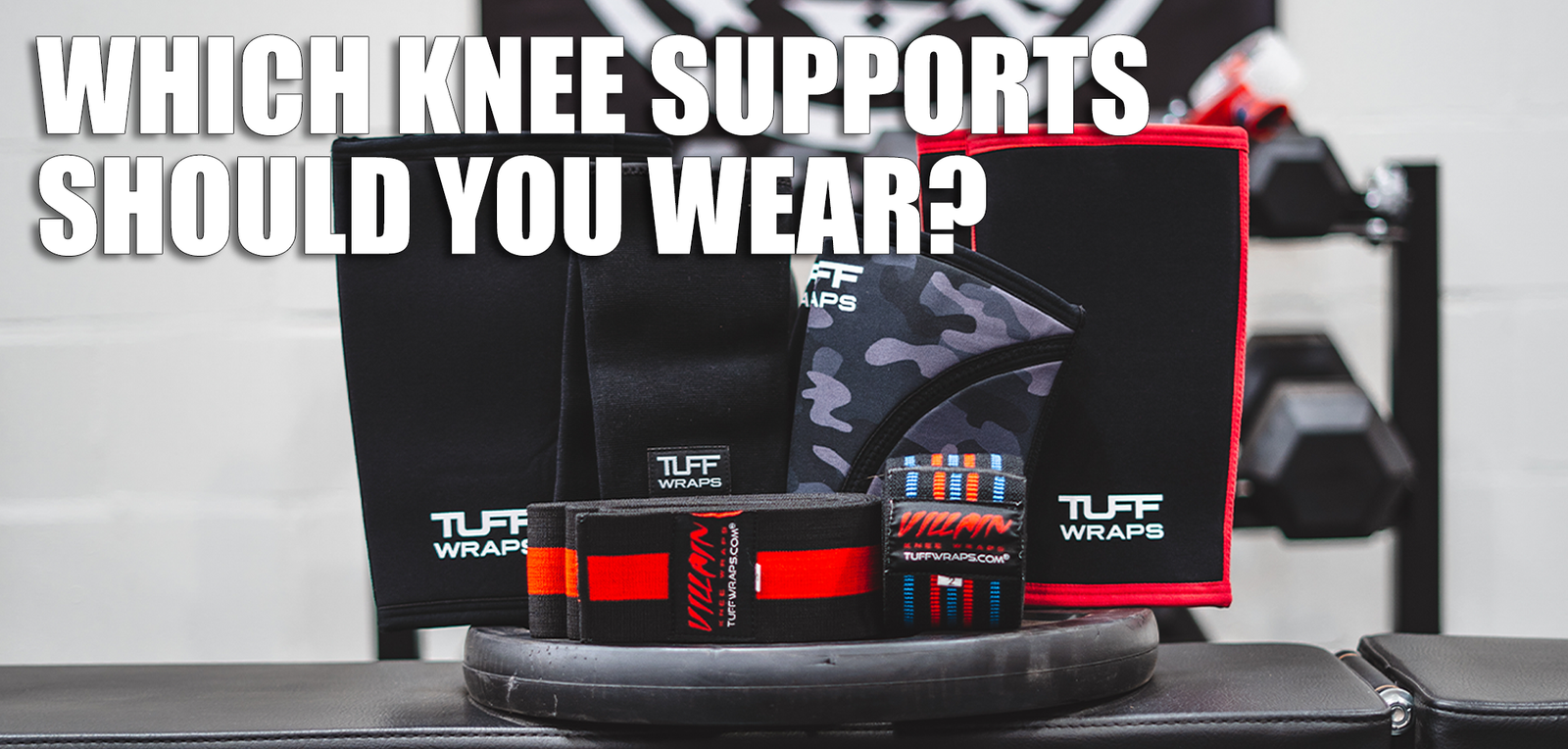 When it comes to choosing knee support for your training, it can be a really difficult decision, especially if it's your first ever knee support. Much like our previous blog about elbow sleeves, understanding the reason or what exercises you will be performing with the knee sleeves is the best way to make an informed decision. 
Do you require support to increase the weight you are lifting or are you looking for support that would allow more volume work?
We have listed below all of the sleeves we offer and have given a breakdown of their suitability and uses. With our different options, we are confident that we can help you figure out which knee support is right for your needs.
Dual Ply Knee Sleeves
The Double Ply Knee Sleeves are the softest sleeves we offer and are also one of the most popular. A combination of their ability to keep the joint warm and apply an unrivaled sense of compression makes them incredibly versatile. We've also added a nonslip rubber ring to the upper edge of the sleeves to help keep them in place during extended periods of time in a workout.
The custom compression material for these sleeves offers a medium amount of support for the knee during movements like squats, leg pressing, lunges, and extensions.
The compression material makes them very suitable for bodybuilders' ratios between their knee joint and lower quad. This is where some stiffer neoprene sleeves struggle to mold perfectly to the knee and end up underperforming in terms of compression.
These are great entry-level sleeves for high-volume work and a favorite for Strongman Training warm-up exercises.
Sleeve Length - 12"
7mm X-Training Knee Sleeves
The X-Training Knee Sleeves are a great entry-level neoprene sleeve and very versatile compared to the longer and stiffer TUFF Competition Sleeves. Manufactured from the same high-grade neoprene as the rest of our sleeves, these have a multiple-panel construction to fit as snug as possible but still provide comfort and support for workouts with an emphasis on explosive movements.
Cross Training is a great example of where these sleeves excel, worn throughout the entire session and allowing a full range of joint motion while maintaining a good level of support.
This style is also very suitable for fitness enthusiasts new to knee sleeves and looking for something that has a great all-around support capability, be it during squats, lunges, circuit training, or simply additional support for any movement.
Sleeve length - 10"
7mm Competition Neoprene Knee Sleeves
The 7mm Competition Knee Sleeves are made from a high-grade neoprene material with fantastic compliance properties, are 12" long and are cut to a tapered style to mimic the shape of the leg. Double-side seams and reinforced stitching were designed to be used in multiple federation requirements.
These are the go-to sleeves of any Powerlifter or Strongman who require every ounce of support while performing their exercises. These could be considered optimal knee support before a knee wrap is required.
Sleeve length - 12"
Villain Knee Wraps
Villain Knee Wraps are the most secure way to support the knee joint when performing a squat-like motion. The wraps are passed around the knee, overlapping on each pass, and then crossed back over the kneecap at the end. This wrapped support keeps the knee secure while adding huge lateral support for the joint and the addition of rebound support when at the bottom of the movement.
There are many ways to wrap a knee joint; this is often down to the user's preference, but when wrapped correctly, they can be incredibly uncomfortable!  This is one of the reasons knee wraps are more suitable for single rep work, or rather attempting a personal record. 
As a rule, Knee Wraps are mainly suited for the squat exercise but can also be used if you are on a leg press and are looking to hit your maximum weights. Villain Knee Wraps are available in soft and stiff materials and 2, 2.5, and 3-meter lengths.
The Villain 2.0 STIFF Knee Wraps in the 3-meter length are suggested for maximum support. Although, if you are new to knee wraps as supports, we recommend beginning with the softer Villain Knee Wraps in either 2 meters or 2.5 meters, depending on your knee diameter.
We only suggest using knee wraps if you are going for a maximum effort set and the maximum support is required to achieve this goal.
Suggested Use:
Bodybuilding - Dual Ply  / 7mm Comp and Knee Wraps 
Cross Training - 7mm X Training Knee Sleeves
Strongman Training - 7mm Comp / Dual Ply for warming up / Knee Wraps
Powerlifting - 7mm Comp / Knee Wraps
General fitness - Dual Ply and 7mm X Training Knee Sleeves
Shop All Knee Sleeves & Supports